Ice It By Bebe Z (Designer Bebe Ziegler) : 2008 Tampa Bay Fashion Week
Fashion Week Fashion Week Designers Fashion Week Photos by Year
Bebe Ziegler An artistic mind, relentless work ethic and an ebullient personality are what makes Bebe Ziegler, President and CEO of Ice It by Bebe Z, a fashion industry powerhouse and style sensation. Bebe creates every intricate design from her eye without ever using a screen print, and lays out each design by hand like completing a complicated crystal puzzle. In 2002, the concept for Ice It by Bebe was born in the back bedroom of her home in Brandon, Florida, after bedazzling a tank top. Since then she has landed licensing agreements with the National Hockey League, and designed apparel for Mercedes Benz, Lexus, Jaguar, Nissan, and Toyota, as well as the United States Military and the Moffitt Cancer Foundation.
In August 2007, she expanded her licensee portfolio in a deal with Discovery Communications, the world's number-one nonfiction media company. She now creates apparel for TLC's innovative series Miami Ink and the successful spin-off LA Ink, based off the tattoo designs of the famous tattoo artists. Most recently Ice It by Bebe Z was chosen as a licensee for MGM's PiNKiTUDE, a multi-level branding initiative which encompasses a wide range of products, merchandise and events, with a percentage of sales earmarked for the global breast cancer organization Susan G. Komen for the Cure. The PiNKiTUDE fashion brand is a bold approach to life inspired by MGM's beloved and iconic Pink Panther. Encouraging women to live life completely, take care of their mind, body and spirit and trust in their own identity – an attitude that Bebe Z can truly relate to. See garments from Bebe's own exclusive line at Fashion Week Tampa Bay, and learn more about Ice It by Bebe Z at: www.iceitbybebez.com
If you use the images from this page, you must list comments along with each photo, "Courtesy of Fashion Week Tampa Bay OR include the website: www.fashionweektampabay.com"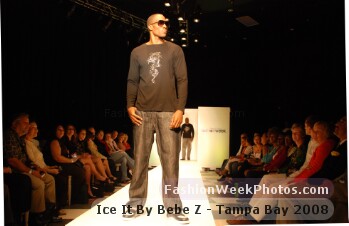 The images above were taken during Fashion Week in Tampa September 2008. The event date was Sept. 24 - 27th, 2008.
Fashion Week Tampa Bay will epitomize the fashion scene in the Bay area with an annual event that celebrates the style that's uniquely Tampa Bay's very own. This event will bring together the Bay area's most talented fashion and accessories designers and showcase their work for local and national retail buyers, local boutique owners and consumers. In addition, local business partners, aspiring models and community members will have an opportunity to experience quality style and trendsetters in their own city, while providing all lovers of creativity a week of positive, high-fashion and artistic energy.
Whether it's high-fashion, custom-fitted clothing or ready-to-wear, no one does it like Tampa Bay!